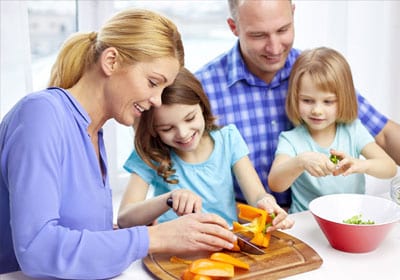 Cooking With Kids
Remember to keep it simple! Every camping trip can be a treat with kids, if you keep it simple. If your RV has a freezer and a microwave, prepare meals ahead. Hearty casseroles such as lasagna can be baked at home, frozen in individual-serving packages and microwaved at the campsite.
Hobo Supper
At home or on the road, cooking for a crowd can be a challenge. Here's a universal camping recipe that's great on the grill or cooked over the coals of a campfire. It's easy to customize and simple to put together. Younger kids can help place food in packets; older kids can do the preparation.
Mea - hamburger patties or smoked sausage cut into chunks, 1/4 pound per person.
Carrot - bagged mini carrots or sliced whole ones.
Potatoes - scrubbed, quartered and sliced, 1/2 to 1 per person.
Onions - sliced or chopped.
Additional vegetables to taste: peppers, squash, mushrooms, and broccoli, cut into chunks.
Salt, pepper, hot sauce, and other seasonings to taste.
Heavy-duty aluminum foil.
Tear off a piece of foil about 24" long for each person. Place one hamburger patty or a serving of sausage on each piece of foil. Add vegetables and seasonings according to appetite and taste. If you omit the meat, put butter or margarine in the package. Bring the edges of the foil together and fold over several times to form a liquid-tight seal. Fold or twist the ends shut. Individualize packages for different eaters by sealing the ends differently. Cook over the grill or coals, turning occasionally, about 15 to 20 minutes each side, until hamburger feels firm and potatoes soft when you squeeze the package (carefully) with your fingers. Put each package on a plate. Open slowly to allow steam to escape. (Young children should not open packets). This easy meal is filling, healthy, and everybody gets to eat what he or she likes. Also, there are no pans to wash.
Pie Irons
Pie irons are a fun, easy way to cook with kids. They are available at any camping goods store, most RV dealerships, and at general merchandise stores such as Wal-Mart. Pie irons let you create a made-to-order meal in a just a few minutes and clean up quickly.
Using the Pie Iron
Spray nonstick cooking spray on the inside of the pie iron.
Butter one side of two pieces of bread.
Place one slice of bread in the pie iron, with the buttered side touching the pie iron.
Place toppings in the center of the bread, leaving room around the edges. Donu2019t overfill!
Place a second slice of bread on top, buttered side out.
Close the pie iron; it will seal the bread around the edges to keep your toppings inside.
Cook slowly over a campfire, turning frequently and checking regularly.
Pie Iron Ingredients (Here are some main dish ideas...)
Pizza fixings (if you use sausage, brown it first)
Reuben sandwiches
Crumbled, cooked hamburger and cheese
Peanut butter and jelly
Cut up hot dogs, sauerkraut (drained) and cheese
Lunch or deli meat
Cooked taco meat, cheese and refried beans
When the bread is toasted (10-15 minutes) the inside topping should be heated through.
CAUTION: Filling pies too full can cause contents to ooze out; cooking too fast can cause burned bread and a cold center.
What your family puts in a pie iron is limited only by your imagination!
For Dessert...
A dollop of your favorite canned pie filling
A generous pat of butter along with cinnamon, sugar and nuts